LAUNCH INFORMATION
See official CubeSat.org for information about the ELaNa launch this Wednesday February 23rd 2011.
Two-line Elements (ELaNa Launch preliminary, Updated for March 4 Launch):
1 99999U 00000 11063.43259919 0.00000000 00000-0 00000-0 0 0002
2 99999 97.9564 8.4412 0007658 67.0214 113.6793 14.77265551000007
Tune your radios to 436.79 MHz to listen to KySat-1. See the Operations page for more information regarding the KySat-1 beacons.
We will update this page with better TLEs as soon as we acquire or generate more accurate ones, stay tuned.
Last updated (11:30 EST,  Feb 22, 2011)
Mission Information
KySat-1 is manifested on the NASA Glory mission and is scheduled to launch at 10:09:43 UTC on February 23rd, 2011.
Gathered telemetry and satellite information will be posted here as we process them. We appreciate all Amateur Radio and GENSO stations that are tracking and helping in the collection of this data.
Orbit Information (Approximate)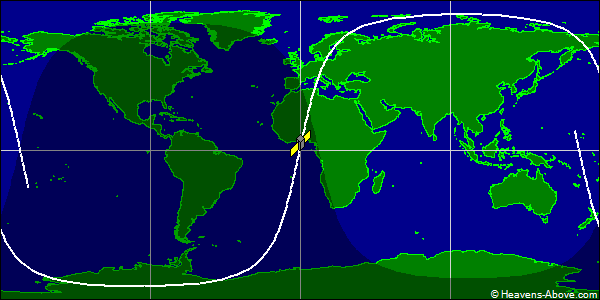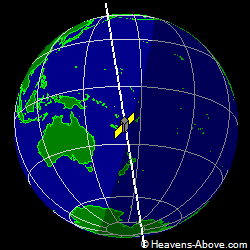 Inclination: 98.2145°
Perigee height: 702 km
Apogee height: 703 km
Right Ascension of ascending node: 346.8048°
Argument of perigee: 84.5031°
Revolutions per day: 14.57100125
Mean anomaly at epoch: 275.63°
Orbit number at epoch: 25477
(Orbital Elements above and graphics are pre-launch approximation, do not use for tracking. They are for CALIPSO, a satellite in the A-Train, which has an orbit similar to our expected orbit. This information will be updated once NORAD begins tracking KySat-1)